Sittercity Helps PhD-to-be Balance Student and Family Life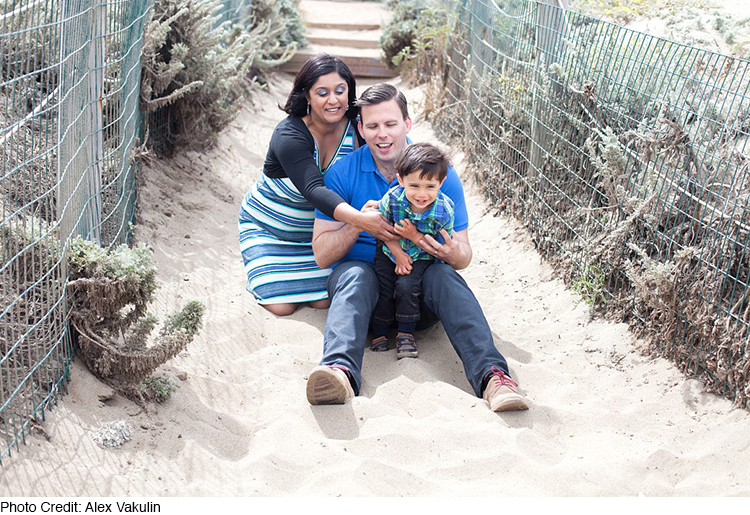 Priya Prasad, a fourth-year student in the UC San Francisco Epidemiology and Translational Sciences PhD Program, is constantly juggling her busy schedule with the care of her two-year-old son. Prasad is thankful she can rely on the Sittercity website to find childcare.

Sittercity is a subscription website that is free to UCSF students, postdocs, faculty and staff (subject to bargaining unit participation). The Sittercity site connects families to sitters, pet care providers and other home help.

"It's a great service because I can post a job and have people apply and then I have the opportunity to go through the resumes," Prasad said. Users can view the profiles of different sitters and, if they are interested in hiring them, basic background checks are free to have run.

"If someone else has already done a background check it shows up on the individual's profile so I don't have to pay the extra fee to have a new background check," Prasad said. "I think that's a benefit for the person that I'm hiring as well as for myself."

Suzie Kirrane, manager of Family Services at UCSF, said Sittercity normally costs $140 per year plus $15 for each basic background check fee but these services are offered free to UCSF community members.

"This is a great benefit for students," Kirrane said. "Parents can filter sitters based on their neighborhood, rates, languages and other options. There are even Yelp-style reviews for sitters."

Prasad uses the UCSF childcare facility at Parnassus on Monday, Wednesday, and Friday and uses Sittercity when she needs a caregiver at other times. "The service has given me the opportunity to have direct access to sitters that I can vet and confirm that they are appropriate for our family. It's been a really nice perk of being a student."

Beginning in January 2017, Sittercity will also become available to UCSF residents and clinical fellows.

For more information, visit your Sittercity portal:

Students, Residents & Clinical Fellows: https://www.sittercity.com/ucsfstudentstrainees

Postdocs: https://www.sittercity.com/ucpostdocs

Faculty and Staff: https://www.sittercity.com/universityofcalifornia

See list of participating bargaining units for this UC-sponsored benefit at UCnet.



Sittercity Final from UCSF Campus Life Services on Vimeo.